Trinity High School is more than a great education – it's a chance to find yourself and get better at everything you love to do. Maybe you're good at math, science or technology. Or you can explore all three within our STEM program. Whatever interests you, you can find it here in our engaging, interactive Block Schedule. All while enjoying a sense of brotherhood formed by our unique House System.
See for yourself. There is a school full of opportunity waiting for you!
Trinity is a Catholic, college-preparatory high school forming men of faith and men of character.
Since 1953, Trinity has benefited from great teachers, resources and activities to shape and guide promising boys into great men. The 106 students from our first graduating class have been followed by a legacy of academic, personal and cultural achievement.
We invite you to find your own greatness, and continue this long tradition in your own way.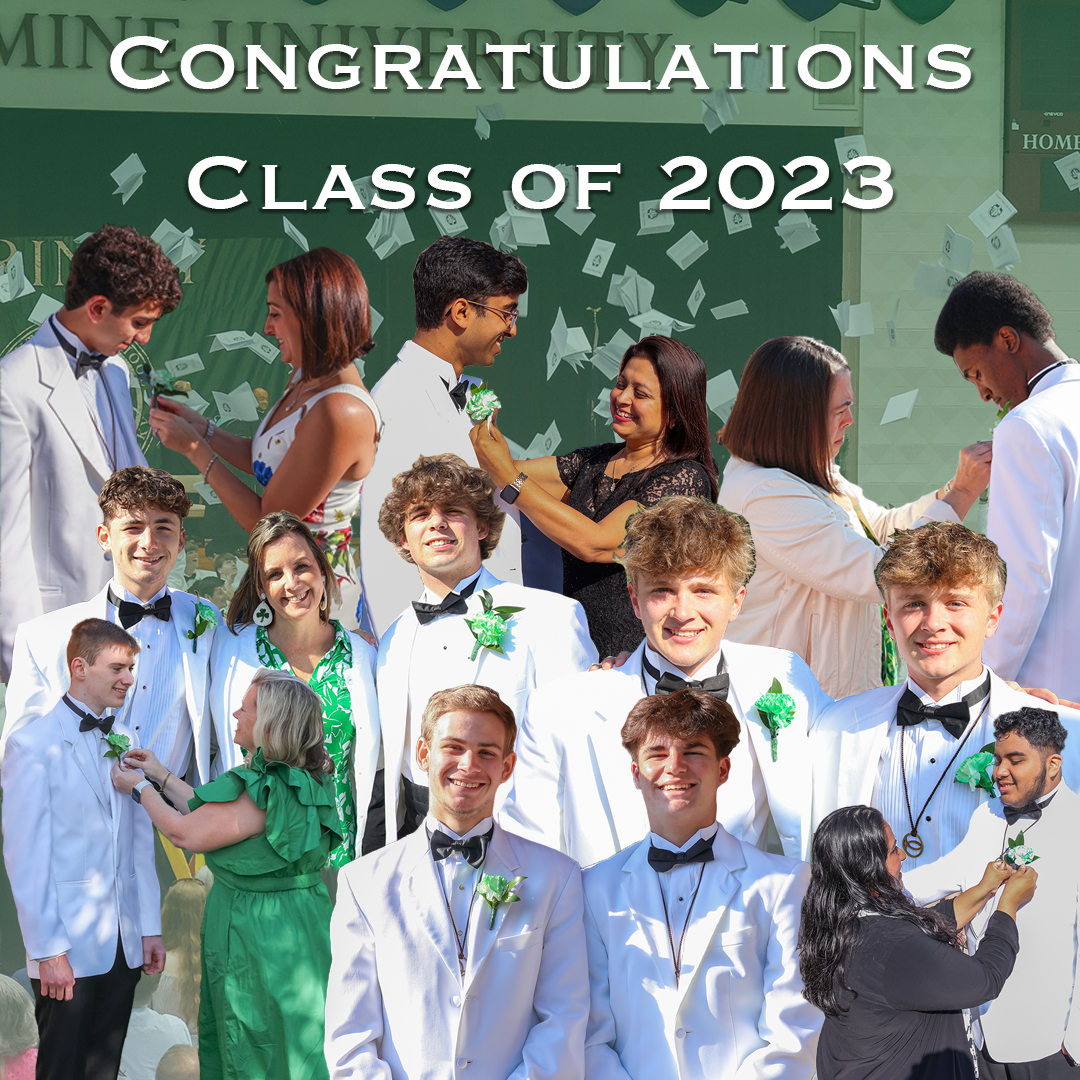 The Class of 2023 left us with many academic honors and accomplishments. This class alone earned more than $40 million in merit scholarships, and when combined with the last few graduating classes, that number rises to $285 million in merit scholarships! The Class of 2023 took close to 640 AP exams while featuring perfect ACT scorers, numerous Governor's Scholars and National Merit Finalists. Members of the Class of 2023 were offered admittance to more than 160 colleges and universities including West Point, Notre Dame, and M.I.T.
May the Class of 2023 always remember God's Truth that they found in these halls and the Wisdom that echoes clear.
Trinity FOREVER, Class of 2023!
We are ONE Trinity FAMILY
70
We arrive at Trinity from 70 different schools each year
11
We live in Jefferson and 11 surrounding counties
18%
We are racially and ethnically diverse with 18% of us being students of color
$3.6M
We distribute $3.6 million in financial aid to over 45% of our families each year
100+
More than 100 extracurricular clubs and activities
10
Houses to build community and have fun
20
More than 20 different sports
1
We are ONE welcoming Catholic community with an academically diverse student body
Trinity High School and the Trinity School Board
The Trinity School Board was founded in 1980 by the Archdiocese of Louisville. The Board is a governance board established to set policy and oversee the general operation of the school. Other responsibilities of the Board include to preserve and promote the unique Catholic Christian character and atmosphere of the school, as described in the Trinity Philosophy and Mission; to provide for and promote the interaction of the local community, with its needs, opinions and resources; to operate and develop Trinity as a Catholic high school; and to act as the principal liaison between the school and the organizational structure for formation and education in the Catholic schools of the Archdiocese of Louisville.
Trinity provides you the opportunity to BE GREAT, so you can be anything.
We recognize that everyone is great in their own way. There are no molds, no stereotypes and no preconceived expectations. Just potential to BE GREAT! That's why we offer Four Academic Programs – Advanced, Honors, Academic and Traditional – to ensure each student's experience is tailored to their abilities with the goal of reaching their full potential in a way that works best for them.
We hope the more you learn about Trinity, the more you see a good match between what we offer and the best opportunity for your son.